Proac
Proac
Visit Site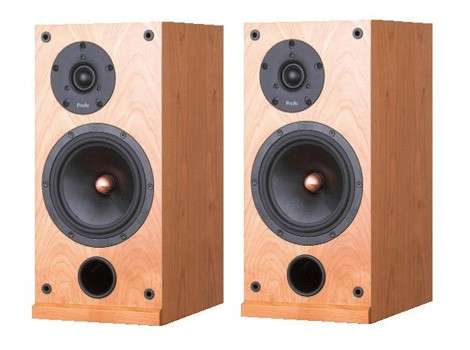 Response D2
The Response D TWO is a new bookshelf speaker, designed for the finest quality music and giving true monitor performance. The cabinet is made from a heavily damped, thin-wall rigid birch ply carcass, with a 25mm back panel. The bass driver is new, using the same cone technology as the Response D15 but with a revised coil and magnet. The tweeter is the same 1" silk dome as used in other ProAc models and the drive units are seamlessly mated with an HQ network designed and built by ProAc. Sound quality from the D TWO is one of extreme transparency; a lush and potent bass response and a silky detailed high frequency. The D TWO also have a huge sound stage with pinpoint imagery. The speakers are designed to sit on high mass stands from 18", high depending on your seating position.

Stereophile review here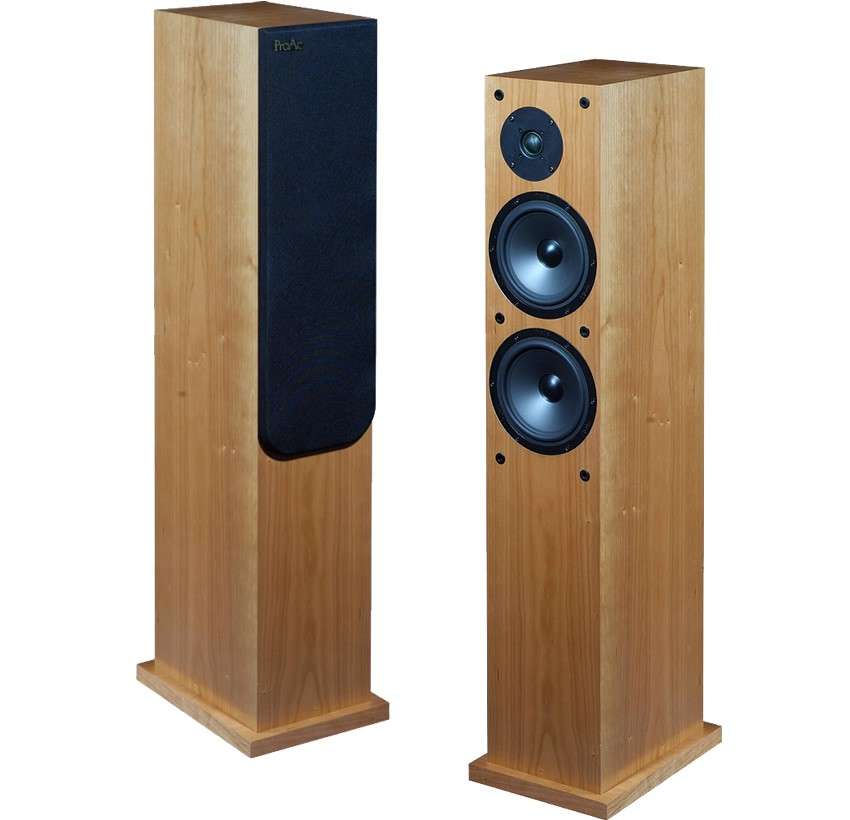 Studio 140Mk2
The ProAc Studio 140 MK2 is an all new version of the award winning Studio 140 speakers from ProAc. The ProAc Studio 140 MK2 floorstanding speakers offer higher efficiency, greater bass power and a larger sound stage. High build quality and the normal ProAc refinements are, of course, included as standard at a very competitive price.
The ProAc Studio 140 MK2 floorstanding speakers are effectively damped and have been designed with a slim baffle which aids dispersion and rigidity. The 2 new bass drivers are floor-ported and feature a new chassis and motor assembly. This, in conjunction with the floor-porting, gives immense bass power with a fast and tight nature. A new (25mm) 1" dome tweeter, similar to those used in our high-end models, takes pride of place at the top of the ProAc Studio 140 MK2 cabinet.
The ProAc Studio 140 MK2 drive units are mated seamlessly by a new crossover network. This is split to allow bi-amping or bi-wiring. The ProAc Studio 140 MK 2 is ideal for those requiring greater efficiency, higher power handling, powerful clean bass and open and detailed mid range. It achieves all of this together with the natural sound for which ProAc is renowned.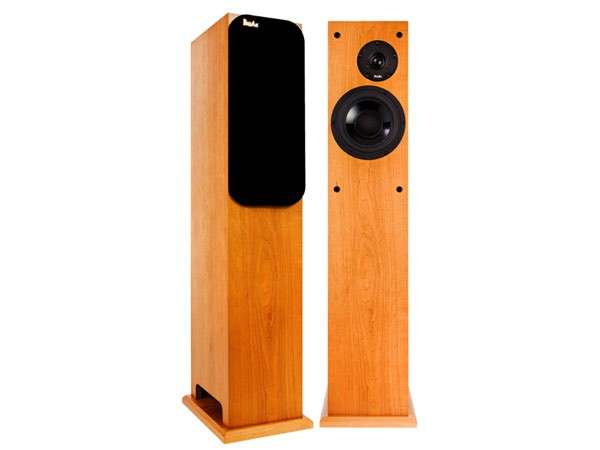 Response D18
Further improvements have been made again with the cabinet, bass driver and crossover network.
The cabinet on the D18 is very heavily damped with a new material; it is also now side vented as other high-end models in the ProAc range.
A new high tech bass driver is similar to the D2, it however has a larger EXCEL magnet assembly and an acrylic damping phase plug.
The results of these combination of improvements are a deep beautifully controlled bass response, a fast electrostatic midrange with a sweet and detailed high frequency.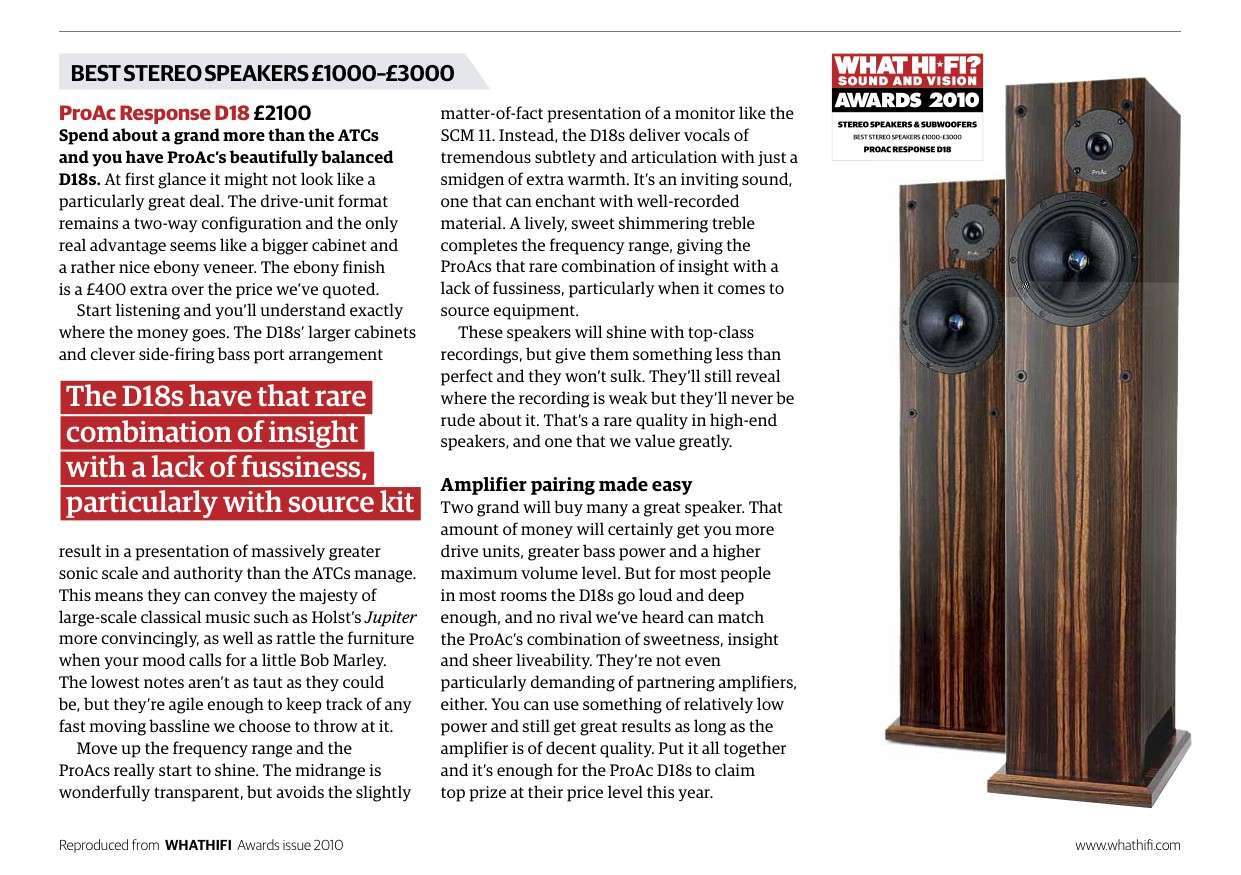 Response D40R
The Response D38 has successfully been in production for nearly 8 years, but with new cone technology now available to ProAc, the decision was made to upgrade this model and hence the new ProAc Response D40R was born. ProAc now produce their own drive unit cones and, in particular, the carbon fibre cones utilized in the bass drivers of our Carbon Pro series of ultimate loudspeakers. These drivers produce the incredibly tuneful and powerful bass qualities associated with the CP6 and CP8 and the special carbon fibre technology has been further developed in order to produce a cone that will effectively cover both the bass and also the midrange frequencies of the D40. ProAc are confident this special manufacturing process will make for a rewarding listening experience. The new carbon fibre cone is made from an ultra-fine weave of high purity carbon fibre cloth; each thread of the weave is made from 1000 strands of carbon fibre, thus giving both strength and weight to the cone in order to increase the frequency response into the midrange.


The new ProAc D40R speakers now utilises two 6.5" carbon fibre full range units achieving a powerful and extended bass response. The new equalised vent was designed using two billet aluminium rods between the cabinet and plinth which together with the drive unit frames are shaped and coated in a non-resonant material. Although slightly smaller than the D38, the D40 has a more extended and potent bass response, amazingly detailed midrange and a sweet and extended high frequency response.


Features:

Fine-weave carbon fibre bass units
Side vented port for strong bass performance
High quality real wood veneer
Superb ribbon tweeter
High quality crossover components