Spendor
Spendor
D9 Loudspeakers
The new Spendor D-Line loudspeakers combine cuttingedge research and technical innovation with real-world design. They bring captivating sound quality to the music you love and fit easily and unobtrusively into any setting.
Compatible with all good amplifiers, the floorstanding D7 and D9 deliver exceptional resolution and low-frequency power, communicating a vibrant realism to music of all genres. With their slim enclosures and smart modern finishes, they're easy to place in dedicated listening rooms or everyday living spaces.
All D-Line loudspeakers draw on our research into cabinet damping, advanced polymers, amplifier-loudspeaker interface, low-frequency airflow and sound behaviour. An inspiring and satisfying choice for audiophiles and discerning music-lovers.
3-way floorstanding loudspeaker
Spendor LPZ high frequency driver
Fifth Generation Twin-Venturi Linear-Flow port
New Spendor EP77 Polymer cones
New Kevlar composite cone low frequency bass drivers
Spendor Dynamic Damping cabinet technology
Five elegant natural veneer finishes with premium options
Multi-Award winning
Calibrated and matched to broadcast reference standard
British design and manufacture
D7 Loudspeakers
2.5-way floorstanding loudspeakers
Spendor LPZ high frequency driver
Fifth Generation Twin-Venturi Linear-Flow port
New Spendor EP77 Polymer cones
New Kevlar composite cone low frequency bass drivers
Spendor Dynamic Damping cabinet technology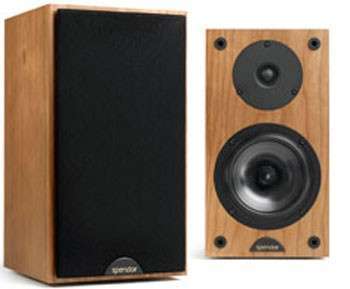 S3/5R2 Loudspeaker
For over two decades Spendor was licensed to manufacture the legendary LS3/5a BBC mini-monitor loudspeaker. It became an international reference standard.
The Spendor S3/5 was launched in 1997. It gained worldwide recognition as the natural successor to the LS3/5a. Ten years later a new S3/5R acheived what many thought impossible - new levels of transparency and imaging coherency, more articulate bass delivery and the enjoyable fatigue free listening experience which so clearly distinguished the original Spendor S3/5 from other small loudspeakers.
The new S3/5R² takes a big step forward with significant improvements in low frequency articulation, dynamics, transparency and sound integration.
A2 Loudspeakers
The A-Line cabinets share the same modern proportions as Spendor's larger D7 and D9 loudspeakers. They're slim, compact and don't mind being right up against walls, so you can fit them easily and unobtrusively into any space. Put them, and yourself, anywhere you like, and they'll sound fantastic. Thanks to innovative Spendor technology, they'll help you get the very best from whatever amplifier and other source equipment you already have or plan to add.
2-way floorstanding loudspeaker
Engineering innovation from the multi-award winning Spendor SA1, A6R and D7 loudspeakers
New Spendor EP77 Polymer cones
Three elegant natural veneer finishes: Black Ash, Dark Walnut and Natural Oak
Deep articulate bass

D1 Loudspeakers
The new Spendor D1 is the smallest loudspeaker in the D-line and a worthy successor to the award winning SA1. Listeners will be captivated by it's charming sound, surprised by it's clarity and definition, assured by performance and engineering of the highest order, and delighted by luxurious modern finishes.
The D1 is equally at home in a living room, study, bedroom or office. It will deliver a naturally balanced sound even when installed close to a wall or placed on a bookshelf.
At the heart of the D1 is a pair of D-line drive units along with Spendor's proven assymetric bracing and dynamic damping technology.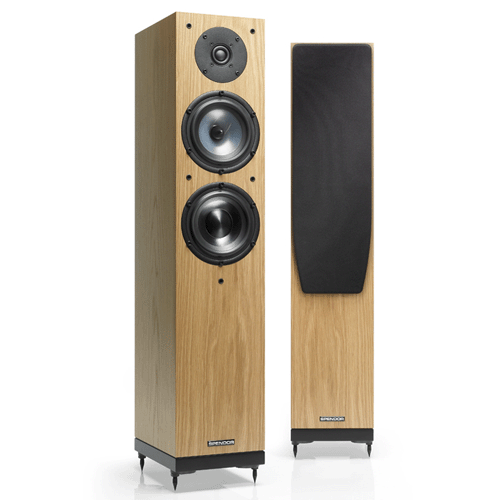 A5R Loudspeakers
The recent development of the stunning D7 has allowed significant advances in the design specification of the new A5R. From refinements to Spendor's asymmetric bracing and dynamic damping systems, right through to the new materials and techniques used by Spendor engineers to create their unique drive units. By isolating the front radiating surfaces completely from the rear surfaces, we have removed the bass smearing often associated with smaller floorstanding loudspeakers.
The 15cm Low Bass Driver utilises an ultra light composite Kevlar piston to give the A5R pin sharp timing. The 15cm Bass/Midrange Driver features the advanced polymer developed to give the seamless midrange of the D7.
The cabinet design along with the Spendor groundlock spike mounting system make the new A5R the ultimate room friendly loudspeaker.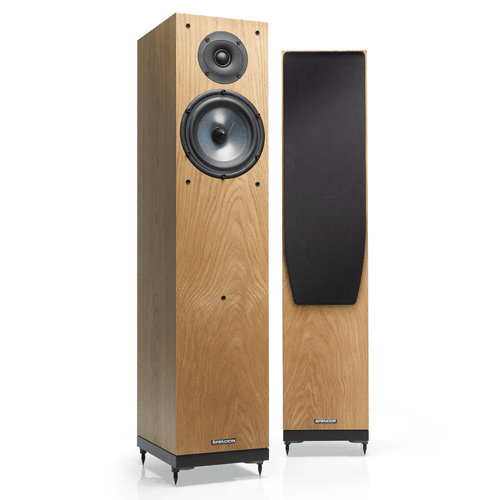 A6R Loudspeakers
The Spendor A6R is a major revision of the highly acclaimed A6. The new Spendor 18cm main drive unit features technology developed for the D7 high resolution speaker. This drive unit together with an all new crossover design utilising upgraded components extends both the low and high frequency range.
The large section linear flow reflex design reduces air velocity and port turbulence giving linear and unrestricted low frequency response. The high quality terminals and short signal path, gold crossover network are combined into a monobloc assembly anchored directly to the cabinet structure.
The ultra rigid cabinet with Spendor's dynamic damping system gives super fast response, whilst high linearity components, silver plated cables and Spendors machined stabiliser system all contribute to the class leading performance.

More Spendor Products Available - Please Enquire