Here we have some bits and pieces that are surplus to requirements or that we've traded in. Some of these may be listed for sale on Trade Me as well.
Yamaha MCRB430 mini system
$440
Orange
Brand new, ordered in for some one who ended up not requiring it.
LOOK!!!!-This is a BARGAIN
KWI200 Integrated
$9999 THIS ONE ONLY $4500 in black -ex demo- with box and remote
Simplicity, Purity, Elegance and Power.
Remote, controls volume, mute, power, input select, remote triggers, DAC input, Dual digital displays, clearly visible from across the room, indicate source input and volume level. Displays may also be remotely dimmed or turned off. Manual controls are simple: Two knobs and two buttons. Power, Home Theater Bypass (or preamp-input) button, source select, and volume control knobs complete the interface.
The KWI 200 uses a digitally controlled analog volume control with buffered input to the Solid State Music Stage, found in all of ModWright amplifiers. This allows for a volume control superior to standard potentiometers and a single gain stage, direct-coupled to the current amplified output stage for ultimate sonic purity. Power handling is MOSFET by design, with a 1.5KVA power transformer and over 234,000 microfarads total capacitance. Incredible current reserves and 200W of power into 8 ohms (400W into 4 ohms), allow the flexibility to drive nearly any speaker.
LM-218IA Integrated Vacuum Tube Amplifier

Twenty-two watts per channel, Single Ended Triode design, Pure Class A Integrated
Stereo Amplifier with 845 output power tubes.
All triode tube Integrated with 12AX7 input tubes for voltage amplification, 6L6 driver tubes and 845 output tubes. Driver tubes 6L6 can also be replaced by EL34, KT88, 6550, or 6V6 and you can select which tubes you prefer judging by different sounds.
4 pairs of inputs and speaker terminals for 4, 8 and 16 ohm speakers are located on the back panel.
was $4900- 1 only left -brand new $3799!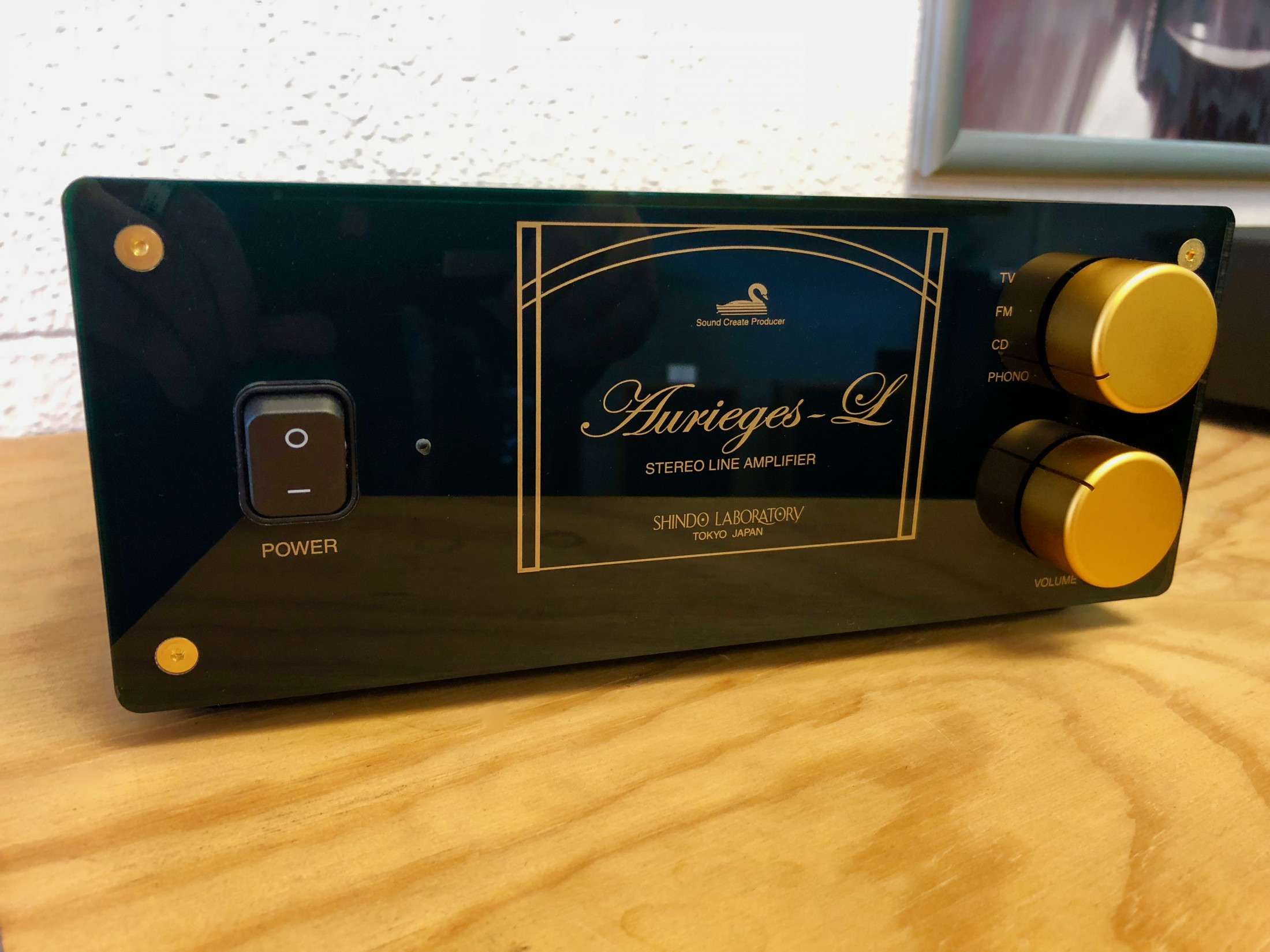 Shindo Aurieges L
We have a mint line stage Shindo Aurieges preamp arriving in the next week, Sold by us new mid 2012
An excellent entry point to the Shindo line. This one was customed by Shindo to have two sets of outputs.
We have $3750 pinned to this one, let us know if you are interested. Preowned Shindo pieces dont last long.
EAR V12 Amplifier $8000
EL84 Push-pull good for about 70 watts.
Less than one year old.
Pathos Digit CD Player $2000
Less than one year old
Dual differential 24-bit delta-signal DACs Dual, fully balanced, tube,class A, zero feedbackup to 192 KHz120 dB-100 dbStabilized dedicated digital2 V,fixed1 XRL1 line RCACoaxial S/PDIF